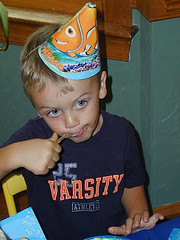 I posted some more photos on flickr of all the kids at the party. Connor got a ton of toys. If it wasn't for the playroom I'd be boycotting Christmas.
As I was creating this post I realized it's been almost 20 entries since I've included a photo. Flickr makes it a little easier so I'll start to include more from now on.
We're so happy he's going to have a little brother or sister by April of next year! We won't know if it's a boy or a girl for another few weeks but we already know it's Logan. Connor really likes the name and has already learned it. Since the name can go either way we'll stick with it. We're still working on middle names but we think Rider might be good for a boy (Amy's mom's last name). And maybe Marie for a girl? Or Mary after my sister. We're open to suggestions.